Enduro
L'evoluzione della bici da enduro!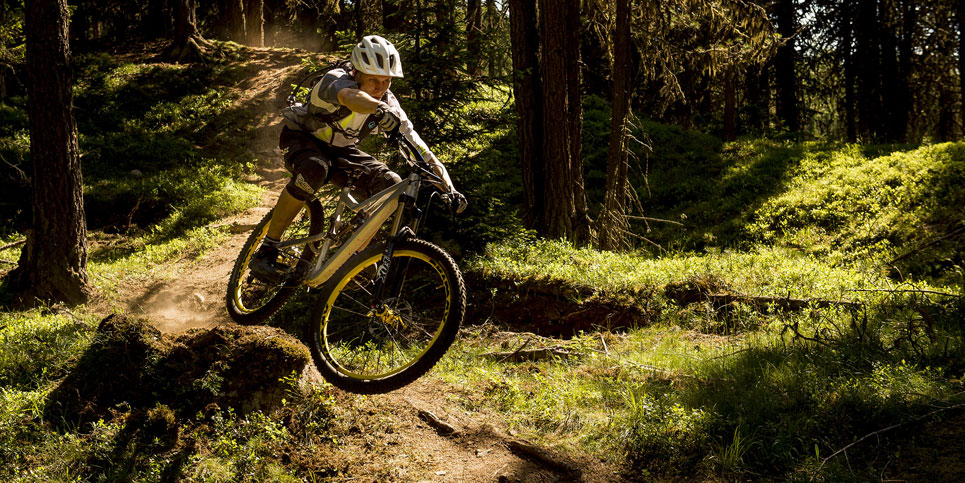 CON UNA BICI DA ENDURO – SENZA CONFINI
Le bici da Enduro sono specializzate nella discesa ma non per questo dedicate solamente alla sezione gravity della disciplina della mountain bike. Le nostre bici da Enduro sono delle vere e proprie tuttofare - ovviamente mostrano tutta la loro forza nella discesa ma in salita e nei rilanci sono altrettanto ricche di performance. Nate per le gare di enduro, nate per scendere a tutta ma nate anche per godersi fantastici tour pedalati dove il cronometro non per forza fa da padrone. Piacevoli da pedalare e portare in vetta, semplicemente fantastiche quando la pendenza diventa negativa e il gioco comincia a farsi duro.
La nostra bici da enduro UNCLE JIMBO rolls on 27,5-inch wheels – this wheel size offers stability and agility on challenging tracks. The bike's suspension offers a travel of 165 mm – not so long ago, this travel category was used in downhill races! This shows where the journey will take us: to the valley! This is exactly what those bikes have been designed for, this is where they show great performances. However, good uphill skills are important, too, as a good enduro bike also has to easily roll uphill. Only then it offers the complete package! That is why the downhill-oriented bikes are so lightweight that you even prefer to pedal up the hill yourself instead of taking the lift.
Enduro può essere competizione oppure semplicemente il piacere di guadagnarsi fantastiche ed interminabili discese prese alla massima velocità - performance alla stato puro contro il cronometro, contro il nostro gruppo di amici oppure contro noi stessi. Enduro è anche il piacere di scoprire nuovi sentieri e la sete di avventura, sempre con un occhio di riguardo alla discesa – la parte più importante per ogni endurista. Enduro è tutto questo – enduro è la memoria di una grande giornata off-road!
6 prodotti
first
prev
1 / 1
last
next
6 prodotti
first
prev
1 / 1
last
next