Trail mountain bikes
Bici Trail – per tutti i sentieri!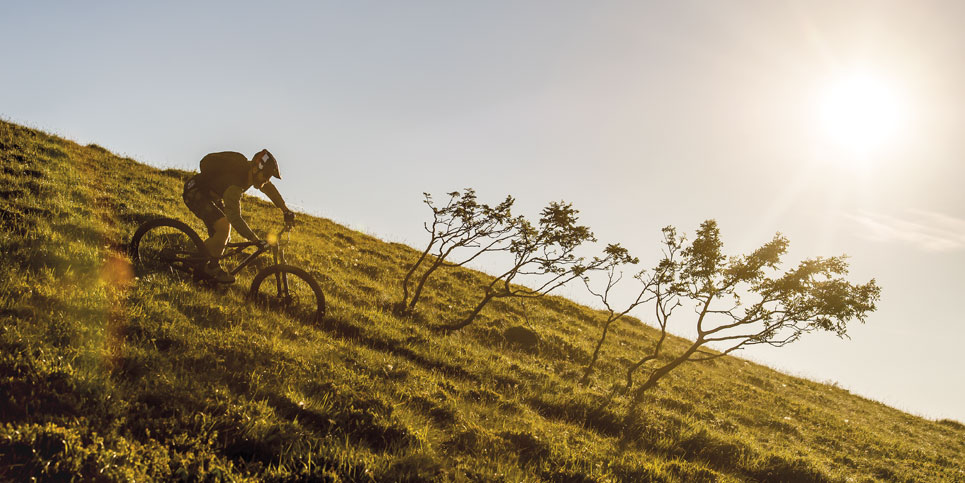 ALL-MOUNTAIN – DIVERTIMENTO PER TUTTI
Le Trail bikes sono bici bi-ammortizzate – le tuttofare della mountain bike. Rappresentano forse l'essenza dell'andare in bici off-road: muoversi liberamente nella natura dove il divertimento è la priorità. Hanno un ampio spettro di utilizzo – sufficiente escursione alle ruote per padroneggiare anche impegnative discese, sufficientemente leggere per permettere importanti dislivelli e lunghe escursioni. Offrono la giusta combinazione tra il piacere di pedalare e quello di scendere dappertutto senza esitazioni. Grazie a queste caratteristiche e quindi la loro polivalenza, le bici da Trail hanno conquistato i cuori di moltissimi mountain biker.
Grazie alle evoluzioni delle unità ammortizzanti avute negli ultimi anni e allo studio cinematico dei carri posteriori delle nostre bi-ammortizzate, è possibile ottenere ottime performance in discesa senza compromettere le fasi pedalate. In salita, il carro è neutrale all'energia impressa sui pedali – nessuna perdita di potenza. In discesa copiano esattamente il terreno e danno così molta sicurezza permettendo elevate velocità anche su terreni particolarmente sconnessi. Queste bici da Trail sono delle Enduro travestite da bici Tour - delle vere e proprie tuttofare. I loro nomi sono GRANITE CHIEF or the ROOT MILLER the possibilities are endless. However, the two bikes are really quite different.
La ROOT MILLER si muove su ruote da 29 pollici e con 140 mm di escursione alle ruote. La GRANITE CHIEF gira invece su ruote da 27,5 pollici e con escursione alle ruote pari a 150 mm. Due bici molto simili come campo di utilizzo ma estremamente diverse per le loro caratteristiche. La prima con minore escursione ma ruote più grandi, la seconda più agile e scattante ma con minor capacità nell'andare oltre agli ostacoli. Alla fine solo una questione di gusti personali sui due formati ruota. Inoltre, da non dimenticare che le possibilità di configurazione sono infinite e puoi cucirti addosso la tua bici – senza compromessi, solo divertimento!
15 prodotti
first
prev
1 / 1
last
next
15 prodotti
first
prev
1 / 1
last
next